How do you recover missing data?
Q:
How do you recover missing data?
I have a hard disk with 500 Gigabytes data . However, when I select all the files and folders and click properties, the total is less than 64 GB. I have shown hidden folders. The other 128 GB are photos and videos, but I cannot see them or access them, even though the disk space is taken up. How do I recover these 128 GB?
A:
May be the data has been deleted or some other reasons, Whatever you just try Aidfile recovery softwreto scan your drive.
If you mistakenly delete the files (shift+delete or empty the recycle bin or, delete the files while cleaning viruses) and the file system is Fat32, Exfat or Ntfs, they can scan and recover the files using the "Undelete" function.This data recovey software's undelete-scanning is very fast and with strong functions.
When the partitions are lost or cannot be accessed due to users' mistakenly deleting the files or other reasons, "Recover Partition" can quickly scan and find the partitions and recover all the data files.
If the "unformat" ,"undelete" and "recover partition" can not find the lost or deleted files.
Choose "Full Scan" to find files with deep full scan.It support many file types.For example, almost all the types of photos or videos such as JPG,PNG,TIF,RAF,BMP,mp4,avi,3gp… etc.
1.When you delete files is that they are not actually removed from hard drive.With Aidfile File Recovery Software,you can recover deleted pictures and photos?
How to recover missing data?
How to recover deleted files >>
Step 1: Please Insert your hard drive to another Windows computer:
Step 2: Select the ""Full Scan" or "Unformat" or "Undelete" or "Recover partition" button , to recover missing data ?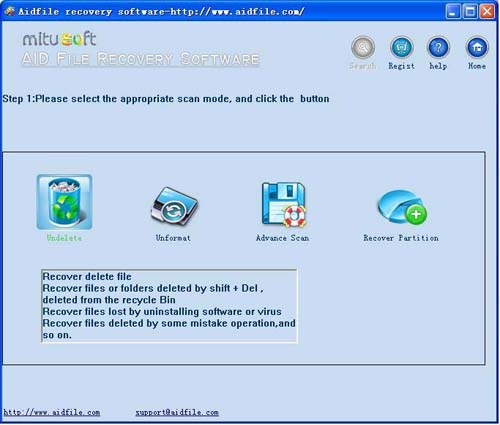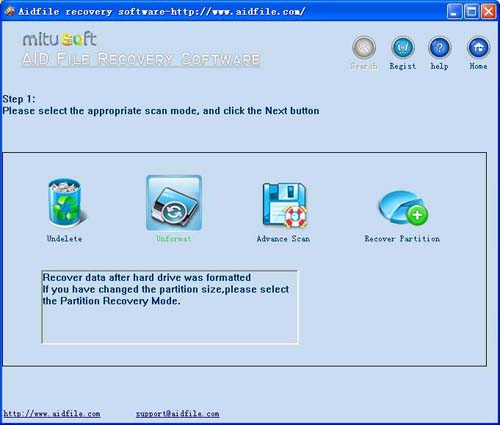 Step 3: Select the drive
Step 4: Then scan,preview,recover.